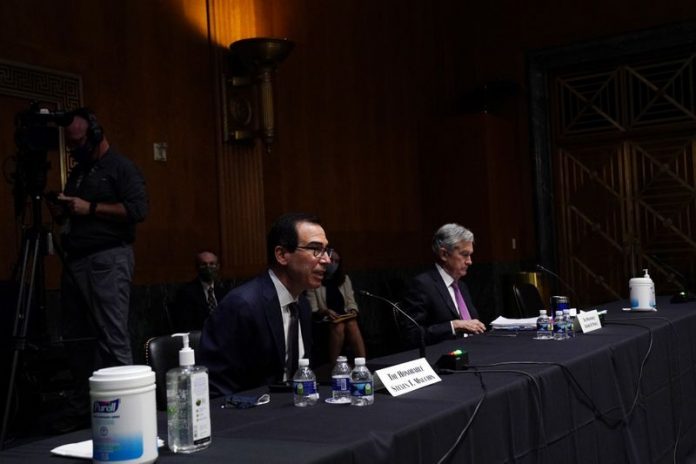 U.S. Treasury Secretary Steven Mnuchin and Federal Reserve Chairman Jerome Powell said hundreds of billions of dollars in unused funds from the $2.3 trillion coronavirus emergency relief package under the CARES Act could be reallocated to help American households and businesses. 
Mnuchin and Powell made the suggestion during their testimony on the impact of COVID-19 on the nation's economy during a hearing before the Senate Committee on Banking, Housing, and Urban Affairs on Thursday.
During the hearing, both floated the idea of reallocating the unused funds as Congress remained at a standstill regarding the issue of providing a new relief package. 
Powell told lawmakers that a new relief is necessary to help Americans and support economic recovery.
Over $300 billion in leftover money
Mnuchin and Powell said there are more than $300 billion in unused funds. They are requesting the Congress to give them authority to reallocate those funds to provide financial assistance to needy businesses and subsidize unemployment efforts.
According to, the leftover funds from the CARES Act include:
More than $130 billion in funds left from the expired Paycheck Protection Program (PPP)  that was never allocated

$75 million in funds remaining from the Fed's Main Street Lending Program

Around $200 billion in funds allocated to the Treasury to support central bank loans were also not committed
Mnuchin and Powell express a sense of urgency
The ongoing standoff in Congress over a new stimulus package prompted Mnuchin and Powell to tell lawmakers that it is urgent to reallocate those monies. The Federal Reserve Chairman claimed that reallocating those unused funds could make a difference amid a slower economy.
He said households are spending leftover money from their stimulus checks and unemployment benefits. He added that "the risk is they will go through that money, ultimately, and have to cut back on spending and maybe lose their home or their lease."
Earlier this month Trump signed an eviction moratorium. The CDC ordered to stop all evictions until December 2020. The Temporary Halt in Residential Evictions to Prevent the Further Spread of COVID-19 is a temporary but effective measure to help those that are struggling with paying rent. 
The economy is recovering but still fragile
The top U.S. economic policymakers were attempting again to open the door to further aid for small businesses and individual households hit hardest by the coronavirus pandemic.    
Mnuchin testified that the economy is experiencing the fastest recovery in modern history.  He believes that the stimulus made all the difference and more stimulus is needed.
In the midst of the news that 870,000 people filed for first-time unemployment benefits last week, Mnuchin said that the airline industry was no at-risk.
Mnuchin noted that the Treasury Department could not tap unused coronavirus lending authority to provide cash grants to help the airline industry avoid thousands of layoffs.
"That is the downside risk of no further action. We don't see much of that yet, but it could well be out there in the not-too-distant future," Powell said.
Airlines have been pushing Congress for months to back a new $25 billion bailout. The March CARES Act provided $25 billion to prevent airline layoffs for six months. It expires on September 30th.
—————————————-
Have a story you want USA Herald to cover? Submit a tip here and if we think it's newsworthy, we'll follow up on it.
Want to contribute a story? We also accept article submissions — check out our writer's guidelines here.