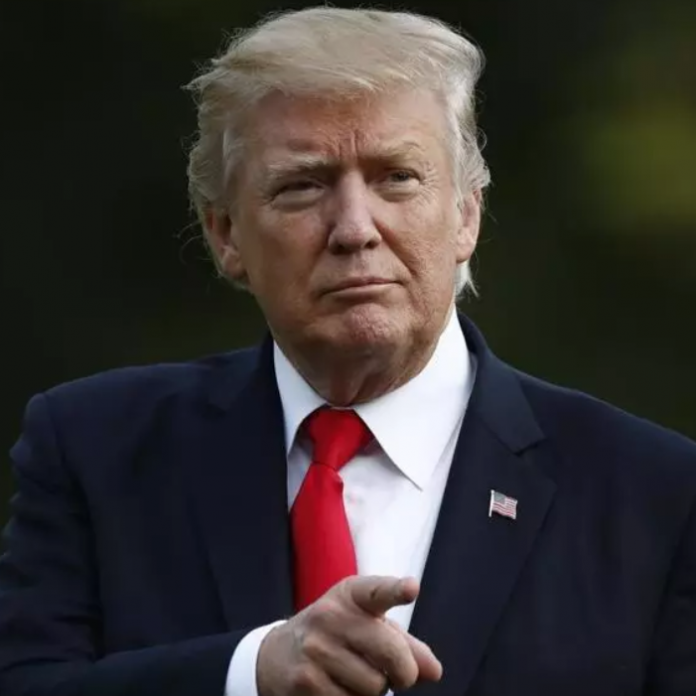 President Donald Trump highlighted a report suggesting that the Federal Bureau of Investigation (FBI) under the Obama administration spied on his campaign during the 2016 presidential election.
In a tweet on Thursday, Pres. Trump claimed that the report about the Obama FBI spied on his campaign is "bigger than the Watergate" scandal.
Wow, word seems to be coming out that the Obama FBI "SPIED ON THE TRUMP CAMPAIGN WITH AN EMBEDDED INFORMANT." Andrew McCarthy says, "There's probably no doubt that they had at least one confidential informant in the campaign." If so, this is bigger than Watergate!

— Donald J. Trump (@realDonaldTrump) May 17, 2018
The President was referring to an article published by the National Review last week. The article was written by Andrew McCarthy, a senior fellow at the National Review Institute and a contributing editor of National Review. In the article, McCarthy stated that former British spu Christopher Steele claimed that the FBI infiltrated the Trump campaign with a "human source."
Steele has a strong connection with the FBI. He was the source of the dossier, a private intelligence report that raises the possibility that Pres. Trump is vulnerable to blackmail by the Kremlin.
This is not the first time, Pres. Trump accused his predecessor of spying his campaign during the 2016 presidential race. In a series of tweets on March 4, he accused Pres. Obama of wiretapping his phones before the election. He also compared it to the Nixon/Watergate scandal.
Terrible! Just found out that Obama had my "wires tapped" in Trump Tower just before the victory. Nothing found. This is McCarthyism!

— Donald J. Trump (@realDonaldTrump) March 4, 2017
Is it legal for a sitting President to be "wire tapping" a race for president prior to an election? Turned down by court earlier. A NEW LOW!

— Donald J. Trump (@realDonaldTrump) March 4, 2017
I'd bet a good lawyer could make a great case out of the fact that President Obama was tapping my phones in October, just prior to Election!

— Donald J. Trump (@realDonaldTrump) March 4, 2017
How low has President Obama gone to tapp my phones during the very sacred election process. This is Nixon/Watergate. Bad (or sick) guy!

— Donald J. Trump (@realDonaldTrump) March 4, 2017
At the time, Sean Spicer, the former White House Press Secretary, explained that Pres. Trump was not literally referring to Pres. Obama. He was pointing at his predecessor's administration. Spicer said, "There is no question…there were actions about surveillance and other activities that occurred in the 2016 elections."
Trump alleged the DOJ is trying to frame him 
On Friday, Pres. Trump posted another tweet alleging that the Department of Justice (DOJ) is trying to frame him for crimes he didn't commit.
"Apparently the DOJ put a Spy in the Trump Campaign. This has never been done before and by any means necessary, they are out to frame Donald Trump for crimes he didn't commit." David Asman @LouDobbs @GreggJarrett Really bad stuff!

— Donald J. Trump (@realDonaldTrump) May 18, 2018
The President quoted  Fox Business Network anchor David Asman in his tweet. Asman was also referring to the National Review article last week.
Since the beginning of the Russia probe, Pres. Trump strongly denied any collusion between his campaign and the Russians. He repeatedly called the investigation a "witch hunt." Some of his campaign aide and associates including Michael Flynn and George Papadopolous pleaded guilty for lying to the FBI in connection with the Russia probe.
In a recent interview with CNN, Rudy Giuliani said Mueller's team informed them that they cannot indict a sitting president. All they can do is write a report on the results of their investigation.