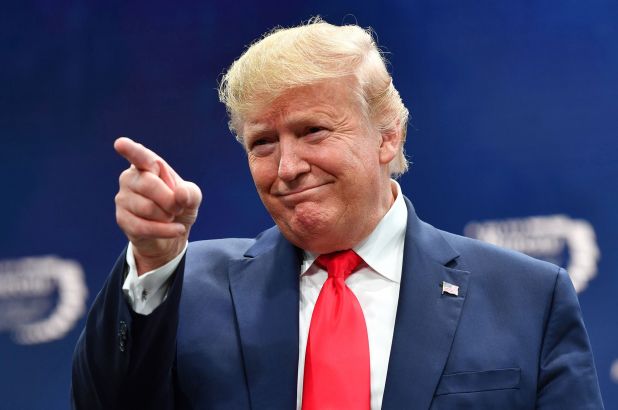 President Donald Trump has done so much to protect the unborn and now he is being recognized for it.
Last week, the pro-life group Operation Rescue named the president its 2020 Person of the Year, the group announced on its website.
The award, named The Malachi Award is given by Operation Rescue each year to those who work to protect the lives of unborn babies.
"During President Trump's Administration, he has done more to protect unborn lives than any other President in U.S. History," the group said.
"When he first took office, he immediately set out to defund those that promote abortion worldwide.  He established policies at the Department of Health and Human Services that completely changed the philosophy of government from one that favored abortion businesses like Planned Parenthood, to one that promised to protect life 'from conception until natural death,'" it said.
Pres. Trump's pro-life policies
The group praised the president's implementation of the Protect Life Rule that stopped Planned Parenthood and other abortion groups from getting millions in Title X Family Planning grants.
The group also lauded President Trump for his recent action to stop $200 million in Medicaid funds from going to the state of California because of the state's policy that would presumably see Christians paying for abortions.
"If California wants to provide abortion services, it can do so," Roger Severino, who serves as the Director of the Office for Civil Rights in the Department of Health and Human Services, said. "What the state is not free to do is force people to pay for other people's abortions."
"No one should force a church or any other employer to participate in funding abortion. For years, California's Department of Managed Health Care has demonstrated hostility to churches by forcing them to pay for elective abortions. The agency has unconstitutionally targeted religious organizations, repeatedly collaborated with pro-abortion advocates, and failed to follow the appropriate administrative procedures to institute its unprecedented mandate. We commend the Trump administration and HHS's Office for Civil Rights for investigating and taking corrective action against the state of California for its flawed policies, persistent violation of federal law, and its willful disregard for the civil rights and conscience rights of its citizens," Denise Harle, Legal Counsel at Alliance Defending Freedom, said.
The group also gave credit to the president for appointing three Supreme Court Justices, in  Neil Gorsuch, Brett Kavanaugh, and Amy Coney Barret, who are pro-life.
"President Trump has done more to build a Culture of Life in the U.S. than all previous presidents combined," Operation Rescue President Troy Newman said. "It is my honor to acknowledge these accomplishments and relay my deep gratitude to him for keeping and exceeding all his promises when it comes to the matter of abortion.  He is a worthy recipient of the 2020 Person of the Year Malachi Award."
—————————————-
Have a story you want USA Herald to cover? Submit a tip here and if we think it's newsworthy, we'll follow up on it.
Want to contribute a story? We also accept article submissions – check out our writer's guidelines here.