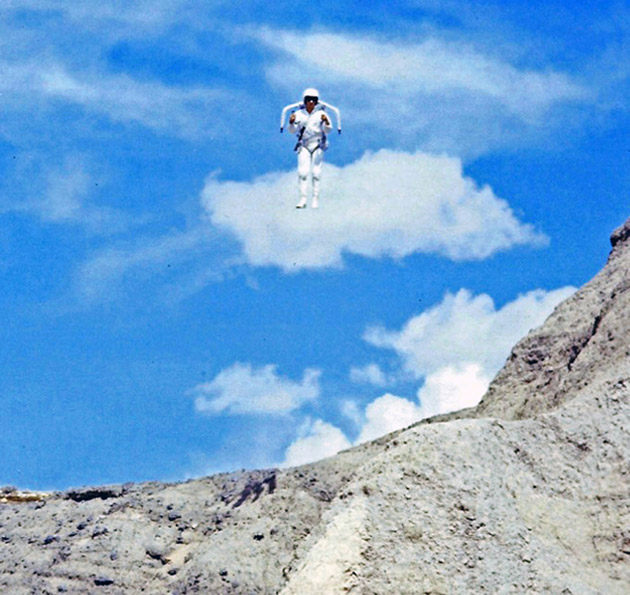 It was the first time in US aviation history that a jetpack-flying man was seen by a commercial air flight. A few weeks later, another pilot spotted him again.
On September 1st,  American Airlines flight #1997 was approaching Los Angeles International Airport (LAX) when they contacted the air traffic control tower. The pilot was reporting a very unusual sighting at an altitude of 3,000 feet.
Pilot reports jetpack-flying man to the control tower
American Flight 1997: "Tower, American 1997, we just passed a guy in a jetpack."
Tower: "American 1997, OK, thank you. Were they off to your left or right side?"
American Flight 1997: "Off the left side, maybe 300 yards or so, about our altitude."
The jetpack-flying man was spotted at an altitude of 3,000 feet about 300 yards to the left side of the plane.
The next flight to land behind flight # 1997 also reported seeing the unidentified jetpack pilot in the same general location off their left side.
The second sighting came on October 14
Last week, airline pilots reported seeing the jetpack-flying man again in the skies above LAX.
According to the Federal Aviation Administration (FAA), "A China Airlines crew reported seeing what appeared to be someone in a jet pack at an approximate altitude of 6,000 feet, about seven miles northwest of Los Angeles International Airport (LAX) around 1:45 p.m. Wednesday." The agency promised to investigate the incident. It said, "The FAA alerted local law enforcement and will look into the report."
"Flying object? Was it a UAV or was it a jet pack?" someone can be heard saying over air traffic control inquiring about the report, according to a recording played on ABC News.
Questions about the jet-pack technology remain
As federal authorities investigate the sightings….many questions remain. Most people in the jetpack industry have doubts that there is any jetpack that can fly successfully at 3,000 feet and really doubt that a solo jet-packer was flying at 6,000 feet altitude last week. 
The micro personal vertical take-off and landing (VTOL) industry appears to be puzzled about the sightings.
New Zealand-based, Martin Aircraft Company Limited is an aviation manufacturing company that develops jet-packs which cost an average of $200,000 dollars. They look similar to a mini-helicopter and can reach a maximum altitude of 3,000 feet, a top speed of 46 mph, and can stay in the air for 45 minutes. 
David Mayman is the CEO of the Los Angeles-based Jetpack Aviation who has the Speeder, the world's first flying motorcycle in development. Jetpack Aviation, established in 2016, has only built five jetpacks. None of them have been sold. 
Last Thursday, Mayman said that he doesn't believe what the pilots and crew saw in the sky, were jetpack-flying people.
"There are only a handful of companies working on this type of technology, and none of us have heard about anybody doing something like this," he said.
"The question is," he added, "why the heck would you go fly around LAX? You need to have your head read. That's a catastrophic accident waiting to happen."
Mayman also noted that all the Jetpack Aviation jetpacks are currently under "lock and key." And he and his chief engineer are the only ones with keys.
Investigations continue
It's still unknown what kind of jetpack was supposedly seen in both sightings near LAX. It is also a mystery who was that jetpack-flying man.
"The FBI is in contact with the FAA and is investigating multiple reports of what, according to witnesses, appeared to be an individual in a jetpack near LAX, including one (yesterday) reported by a China Airlines crew," said FBI spokesperson Laura Eimiller. "Anyone with information should contact the FBI at 310 477-6565."
The FBI and FAA are both looking into the sightings. The newly minted Unidentified Aerial Phenomena Task Force (UAPTF) is also investigating.
—————————————-
Have a story you want USA Herald to cover? Submit a tip here and if we think it's newsworthy, we'll follow up on it.
Want to contribute a story? We also accept article submissions – check out our writer's guidelines here.