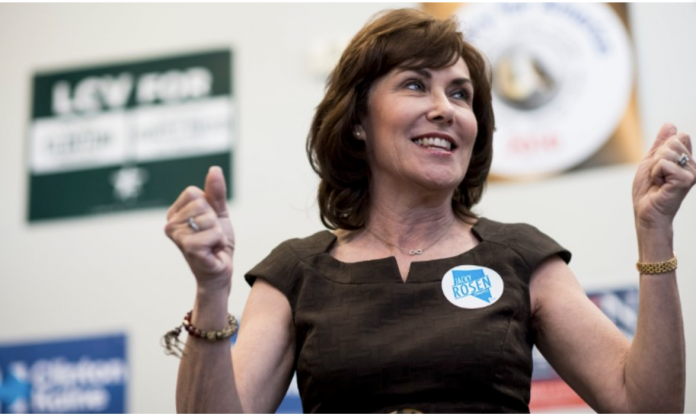 On Saturday, Nevada Democratic Senate candidate Jacky Rosen responded to recent criticism from President Trump, states The Hill.
An Overview of Trump and Rosen's Statements
Jacky Rosen is one of several Democrats hoping to emerge as victors of America's forthcoming midterm elections. She is running in as a Nevada Senate candidate against Republican Dean Heller. At this time, the GOP candidate currently maintains a one-point lead over Rosen.
Yesterday, President Trump also appeared in Nevada. He traveled for the sake of hosting a rally for his supporters. During the President's speech, he called out what he views as Rosen's abysmal tax policies.
Trump's critical statements engendered hearty applause from his base and read as follows:
"[Rosen] wants to raise taxes. She wants to raise taxes, think of it. I mean, it's ridiculous. Should I mention her name?"
The President then proceeded to give Rosen a nickname. This is common practice for Trump when he is referring to his political adversaries, especially via Twitter.
"I have a great nickname for her. Wacky Jacky. You don't want her as your senator."
Yesterday, 'Wacky Jacky' responded to Trump's statements:
"The President is attacking me with lies and petty insults because I'm not afraid to stand up to him. Dean Heller has been a rubber stamp for Donald Trump in Washington, caving to the President's divisive agenda at Nevada's expense. This was Senator Heller's reward for his loyalty."
The President has not publicly replied to Rosen's remarks.
The Fate of Forthcoming Midterm Elections
Over the past few months, speculations regarding this year's midterm elections have surged. While the GOP hopes to maintain their Congressional power, Democrats remain hopeful for a "blue wave" victory. Moreover, Republicans and Democrats have both opined that they will win and the opposing party will lose. Only time will tell.
In order for Democrats to regain control of the House of Representatives, they would have to secure at least 24 seats. However, the GOP only has to lose two seats in the Senate for Democrats to seize control of this faction of Congress.
The 2018 midterm election will occur on Tuesday, November 6, 2018.