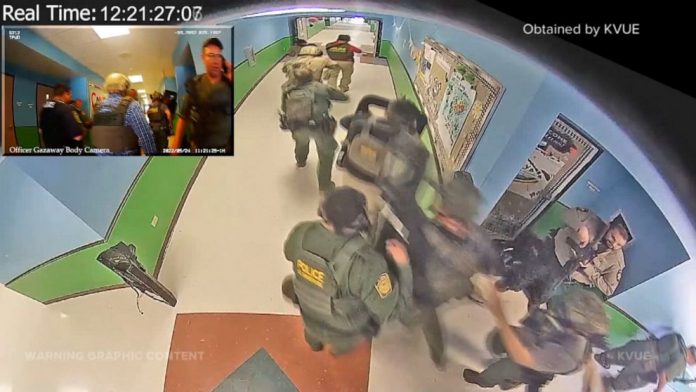 In May, nineteen children and two teachers were killed inside a Robb Elementary School classroom while Uvalde police stood outside in a hallway. A video was leaked to the press before it was viewed by the victim's families. Family members of the victims are demanding the accountability of law enforcement. 
The City of Uvalde and the Uvalde police department attempted to avoid making all information about the deadly mass shooting public.  This includes the 911 calls, bodycam footage, audio, calls, emails, and text messages. And they hired private attorneys to plead their case.
Shocking video of no response
The shooting has been the subject of multiple investigations. The Texas Department of Public Safety, lawmakers in the Texas House, and other agencies have been trying to understand the lack of police response.
The video shows that for 77 minutes police were listening to the gunshots outside the 4th-grade classroom. And did not respond.  
Pete Arredondo, the Uvalde school district police chief has stepped down from his job.  And the names of the officers in the hallway have not been released.
Two months after the shooting police agencies are still arguing about who was in charge of the response.
The surveillance video that was leaked to the Austin American-Statesman publicly was not shown to the grieving parents first.
Over a dozen officers, some armed and carrying bulletproof shields, can be seen at times in the video. 
The reality of the scene was far different from what Republican Gov. Greg Abbott described the day after the shooting. He claimed officers "showed amazing courage by running toward gunfire." Abbott later said he was given the wrong information.
Police hold back citizens from confronting gunman
Ruben Ruiz, the husband of Eva Mireles, one of two teachers killed, appears in the body camera footage at 11:48 a.m. He enters the building and tells officers, "She is shot."
Ruiz was prepared to confront the gunman. Like so many of the parents outside the school, the officer was stopped.
"What happened to (Ruiz) is he tried to move forward into the hallway, he was detained, and they took his gun away from him and they escorted him from the scene," Texas Department of Public Safety Director Steve McCraw told lawmakers.
Parents of victims outraged by Uvalde Police 
The fact is that fully armed officers failed to respond. And the head of Texas' state police has condemned the police response as a failure. And most Uvalde residents are blasting law enforcement as cowardly.
City and state leaders continue to urge patience and let the various investigations play out.
After the release of the video on Tuesday residents at the City Council meeting Tuesday demanded to know whether officers who were at the shooting had been fired.  Council members did not have a response.
Uvalde Mayor Don McLaughlin said no decisions have been made. "I don't know they need to step down," he said. "But everything needs to be reviewed."
Greg Shaffer, a retired member of the FBI's hostage rescue team, said "I think everyone in that hallway should reconsider their career choice. If you don't have the courage and the mindset to run toward gunfire, as a police officer, then you're in the wrong profession."