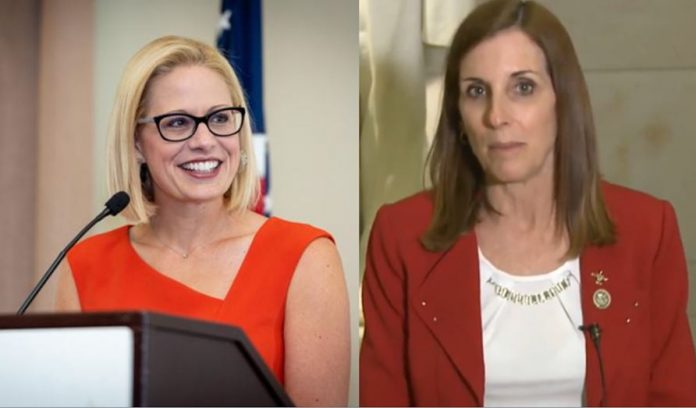 Democratic Representative Kyrsten Sinema widened her lead over Representative Martha McSally in the tight race for the U.S. Senate in Arizona.
On Thursday, McSally had an advantage of around 17,000 votes but the situation changed on Friday as election officials started counting remaining votes from Maricopa County. It is the state's most populous county, which includes Phoenix.
Based on data from the Arizona Secretary of State's website, Sinema gained 595,444 votes while McSally obtained 556,076 votes in Maricopa County. The Democratic Senate candidate had 39,368 more votes than her Republican opponent
Election officials also finished counting the remaining ballots in Pinal County, where McSally got 53,068 votes compared to Sinema's 40,754 votes.  The Republican Senate candidate managed to offset her opponent's advantage by 12,314 votes.
Still, Sinema's advantage against McSally more than doubled from 9,610 votes earlier on Friday to 23,899 or 1.17 percent at the time of this writing on Saturday around 4:20 p.m.
Election officials in Pima and Yuma Counties are still counting remaining ballots.
Yesterday, Sinema's campaign manager, Andrew Piatt released a statement expressing confidence that she will continue to expand her lead.
"Once again, today's data confirmed our expectation that as the ballots are counted, Kyrsten will steadily build her advantage and be elected to the U.S. Senate…She will this race."
Arizona Democrats and Republicans reach agreement on how to fix ballot issues in rural areas
Prior to the wave of results that Sinema ahead in the race, Republicans in Apache, Maricopa, Navajo, and Yuma Counties filed a lawsuit challenging the procedures for counting mail-in ballots. They argued that election officials are not following a uniform standard in verifying signatures in mail-in ballots. They demanded equal treatment of votes.
On Friday, Arizona Republicans and Democrats reached an agreement in a courtroom in Phoenix. They agreed to allow rural voters to have extra time to fix issues with their ballots. The counties have until November 14 to fix issues.
In a statement, McSally said, "Equal protection under the law is a fundamental constitutional right for American voters. As a combat veteran, I fought to protect it. And today, we won an important battle to preserve that right for rural voters in Arizona. I will continue fighting until every ballot is counted."