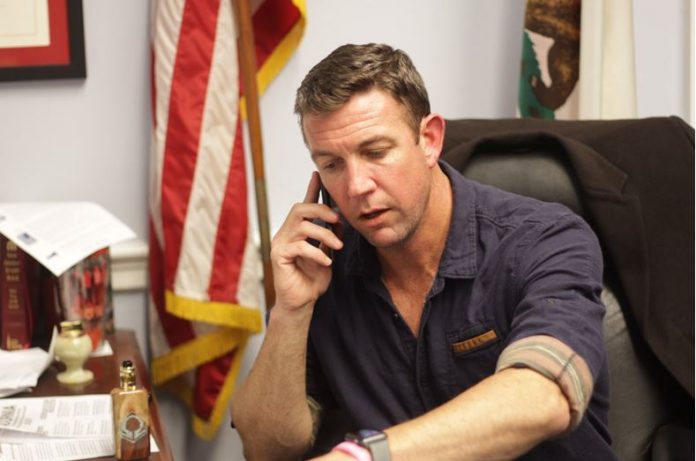 California Republican Representative Duncan Hunter is facing new allegations that he misused campaign funds to pursue numerous romantic relationships with congressional staffers and lobbyists.
In a new filing on Monday night, federal prosecutors requested the court to allow them to disclose to jurors new accusations against Rep. Hunter during his upcoming trial on alleged violations of campaign finance laws.
Federal Prosecutors explained that it is important to disclose the new allegations to establish Rep. Hunter's nature of expenditures and "motive to embezzle from his campaign." They also stated that the disclosure will show the Republican lawmaker's intention to violate the law.
Federal prosecutors alleged that Rep. Hunter repeatedly used campaign funds to pay for personal expenses including his five extramarital affairs. He allegedly used campaign funds to rent a car, pay for hotel rooms, plain ticket, food and drinks while pursuing his romantic relationships.
"Evidence of the intimate, entirely personal quality of Hunter's specific encounters with these women is essential to demonstrate that his spending to facilitate those encounters was improper.  At trial, the evidence will demonstrate that Hunter improperly used campaign funds to pursue these romances wholly unrelated to either his congressional campaigns or his official duties as a member of Congress," according to prosecutors in the filing.
Mrs. Hunter already admitted their wrongdoing
In August last year, federal prosecutors indicted Rep. Hunter and his wife Margaret for allegedly falsifying campaign records submitted to the Federal Election Commission (FEC).
They accused the GOP lawmaker and his wife for illegally spending over $250,000 in campaign funds for personal expenses between 2009 and 2016.
Earlier this month, Mrs. Hunter admitted that she and her husband "knowingly and willfully" used campaign funds for personal expenses.
She agreed to provide "substantial assistance to the United States in the investigation and prosecution of others" and to "tell everything (she) knows about every person involved" in the crime as part her plea agreement with the Department of Justice (DOJ).