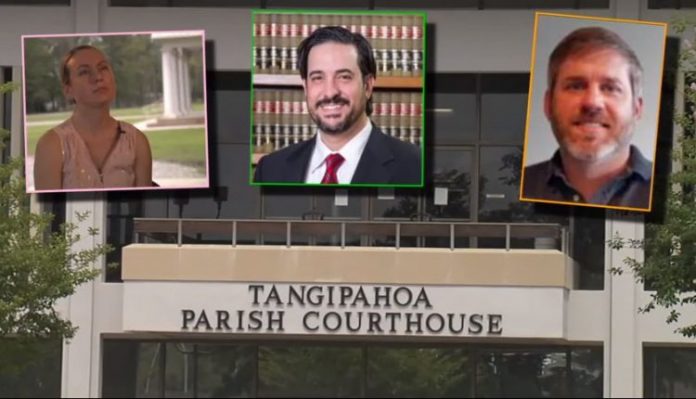 The story is that a Louisiana woman lost custody of her daughter. And was ordered to pay child support to her alleged rapist went viral earlier this month. 
Due to the public outcry, Judge Jeffrey Cashe has now temporarily reversed his decision. And he ordered the child to be temporarily placed with a neutral 3rd party. And Abelseth says her daughter is "safe and happy."
Crysta Abelseth claims John Barnes raped her when she was sixteen years old. He had offered to give her a ride home in 2005. But instead took Abelseth to his house. And raped the intoxicated girl on his living room couch.
Barnes was 30 years old at the time. DNA taken when Abelseth's daughter was 5, confirms paternity.
The woman did not report the rape until later.  But in Louisiana, you can't consent to have sex at the age of 16. It is statutory rape.
The alleged rapist was never investigated
In 2011, when her daughter was 5, Barnes found out about the child. He had no contact with her up to that time. And Abelseth told the court that her child was the result of a rape. Nevertheless, the alleged rapist received 50% shared custody.
2015 was when Abelseth found out the crime was within Louisiana's statute of limitations. So, she filed charges against Barnes for the rape.
"He's threatened me multiple times, saying he has connections in the justice system, so I better be careful, and he can take her away anytime he wants to. I didn't believe him until it happened."
"It was never assigned to a detective, and nothing was ever investigated," Abelseth said.
John Barnes is the owner of Gumbeaux Digital Branding, a web company in Ponchatoula.  His firm has a contract with the local police department. His website showed them as a client, but that information was removed after the story was reported.
According to the Tangipahoa Parish Sheriff Daniel Edwards, his department "dropped the ball" when it failed to investigate the rape. And the DA and state of Louisiana will now be working on the details of the case.
More allegations emerge
This year, Barnes was given full custody of the now 16-year-old girl, and Abelseth was ordered to pay child support.
During the time that Barnes was seeking full custody, complaints were forwarded to the court.
In January 2021, the child's school counselor notified the Department of Children and Family Services that the girl alleged Barnes physically and mentally abused her.
And in February 2022, court documents noted for the first time that their daughter was conceived by rape. And the daughter was alleging that Barnes drugged and may have sexually assaulted his daughter.
"She was transported to New Orleans where she was evaluated and the doctor confirmed that there was evidence of forced entry congruent with sexual assault," according to a document submitted to the court.
Judge Cashe dismissed both the 2021 and more recent claims. And he ruled that the evidence didn't support the teen's allegations of abuse.
He was however still concerned about Barnes' claim that the girl was "sexting' her boyfriend. And keeping the 16-year-old from owning a cell phone. 
 A court date to work out some of the issues is now set for July 15.