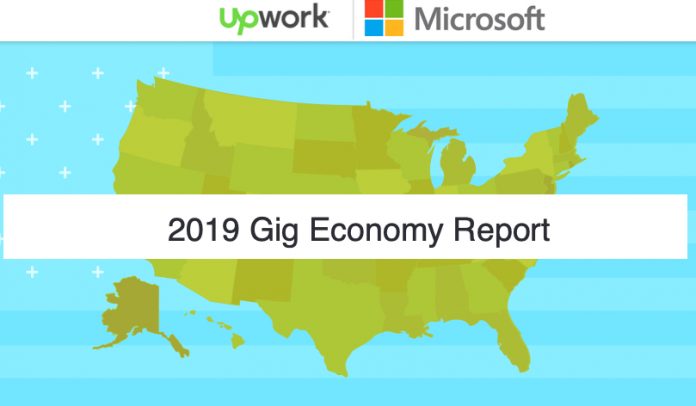 The relationship between Microsoft and UpWork has blossomed significantly over the last three months. What started as an exclusive partnership integrating UpWork into Microsoft Office, has now turned into chatter of a longer-lasting partnership between the companies. In fact, sources have told USAHerald that Microsoft is in discussions with UpWork about a potential acquisition of the freelance platform.
If Microsoft's purchase of LinkedIn is any indication, UpWork investors could be in for great news in the coming year.
An exclusive partnership
The exclusive partnership between UpWork and Microsoft is an important undertaking by both parties. It is set to integrate a new tool for Microsoft Office users to quickly onboard and utilize freelancers in a variety of ways.
The tool, called Microsoft 365 Freelance Toolkit, gives freelancers access to Microsoft Office tools as needed to complete a given project. When the project ends, the freelancer is automatically removed from accessing these tools. This automated process is set to make integrating freelancers into corporate projects smoother and easier to manage.
According to UpWork CEO Stephane Kasriel, "While enterprises today spend an estimated 3.5 trillion on contingent labor, the model for working with external talent is restrictive. Together with Microsoft, Upwork is empowering organizations to adopt a more flexible workforce model that delivers better visibility, greater access to skills, and richer reporting capabilities than can be gained through traditional workforce models."
A new working economy
The freelance economy is becoming the new normal for 21st-century workers. According to The Future of Workforce Report released by UpWork, by 2028, 73% of all teams will have remote workers, with the younger generation being more open to freelance and temporary work so as not to experience burnout in a full-time, constricting role.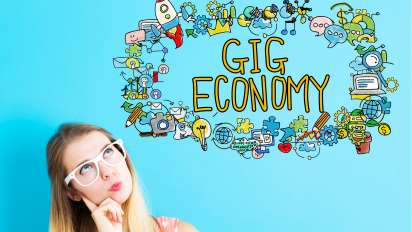 It isn't just workers benefiting from freelance opportunities. Businesses are able to pay per task, hire more efficiently, and not lock-in to long-term employment contracts to get work done. This is why, according to UpWork CEO Stephane Kasriel, freelancing is the next industrial revolution. "We are in the Fourth Industrial Revolution," notes Kasriel. "A period of rapid change in work driven by increasing automation, but we have a unique opportunity to guide the future of work and freelancers will play more of a key role than people realize."
In some ways, Microsoft has no choice but to acquire UpWork in order to protect the groundwork it has already built in the employment and networking space. While Microsoft's purchase of Linkedin added to its stable of tools for full-time employees and employers, the company is still lacking in the growing future temporary workforce.
With the economy moving more toward temporary work, as previously described, UpWork becomes a disruptor to businesses which rely on the traditional mode of employment in their business model. This makes UpWork a direct threat to the business of LinkedIn, which could suffer.
Other ways Microsoft could use UpWork
While this exclusive partnership for integration with Microsoft Office products has everyone talking, there is still a lot more room for Microsoft to utilize UpWork and its resources in a future where UpWork is a part of the Microsoft ecosystem.
One potential use for Upwork's technology and marketplace is integrating it with the already existing network of LinkedIn. LinkedIn has an estimated 575 million users, with more than 260 million of those users active monthly. Maybe more importantly for UpWork, there are over 10 million company profiles on the platform. All of these companies have their own hiring needs and are potential clients who could benefit from an efficient connection with freelance workers.
Paul Estes, a senior director at Microsoft, sees how important it is that the company's toolkit is geared directly toward the freelance economy. "We've learned our tech can make freelancing a powerful and modern way that works for most companies.  We're at the very beginning of this journey."
To Estes, "If you want radical agility in your workforce, it starts with a gig mindset." And this mentality makes UpWork a go-to solution for Microsoft's future plans.
An already growing business
The technology of this impending deal makes sense, but so do the financials, as UpWork has finally worked its way to profitability. After failing to turn a profit in previous quarters, the last quarter of 2018 showed how the company is finally starting to leverage its business model and strengths toward positive financials.
In the fourth quarter of 2018 the company was able to increase its revenue to $67.3 million, up 23% in the quarter. Adjusted EBITDA for the company was finally in the black, coming in at $3.6 million compared to -$1.9 million a year ago. While these numbers aren't huge by any means, they do indicate a small business which is finally figuring itself, and the market, out.
Additionally, the platform has no real competitors. Yes, there are other freelance marketplaces out there, but they are all lacking in one way or another. Fiverr is a bottom-of-the-barrel platform which pays freelancers below minimum wage, while Toptal is not even a marketplace at all.
At the end of the day, however, it might not even matter to Microsoft if the UpWork business model is profitable or not. Instead, what is likely more important is UpWork proving its technology and its ability to show the power of its freelance marketplace for both clients and workers alike.
Predicting the price of UPWK
If the purchase of UpWork by Microsoft is not a matter of "if" but "when", what can we expect the tech giant to pay for the freelancing upstart? Using Microsoft's purchase of LinkedIn might give us some perspective in determining the premium Microsoft may pay in this acquisition.
In June of 2016, Microsoft agreed to purchase LinkedIn for $26.2 billion, or $196 per share of LNKD at the time. LNKD had previously set its IPO price at $45. But maybe more importantly, at the time of Microsoft's acquisition, the share price of LNKD settled close to $130. This means Microsoft paid almost a 50% premium for LNKD given the company's share price at the time.