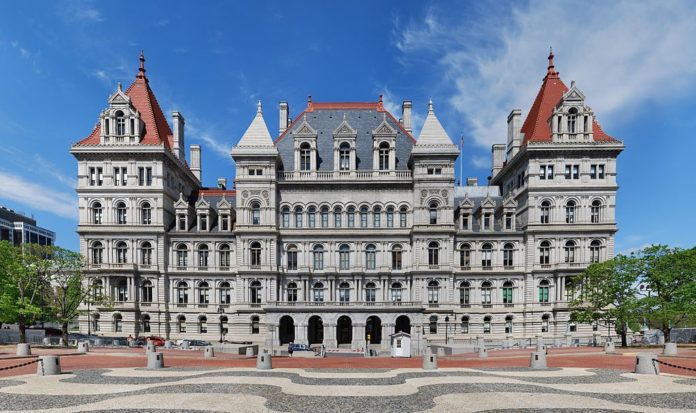 The New York State legislature passed legislation allowing Congress to obtain President Donald Trump's state tax returns. The legislation is now going to Governor Andrew Cuomo's desk for final approval.
Senator Brad Hoylman and Assemblyman David Buchwald are the primary sponsors of S6146 and A7750 also known as the TRUST Act in the State Senate and Assembly, respectively.
The legislation requires the New York State Commissioner of Taxation and Finance to cooperate with investigations by certain committees of the U.S. Congress under certain circumstances.
The chairman of a congressional committee must specify that their request for state tax returns is related to a "legitimate task" of Congress.
On Wednesday, the State Assembly passed the legislation with 84-53 votes. Earlier this month, the Senate passed the bill with 39-22 votes and approved an amendment on Wednesday. The amendment limits whose tax returns can be requested by a congressional committee. Gov. Cuomo is expected to sign the bill into law.
"New York State stepped up to promote transparency"
In a statement, Hoylman said, "New York has a unique role to help head off the constitutional crisis brewing between Congress and the White House over refusal to comply with the request for Donald Trump's tax returns."
He added, "We are affirming Congress's role as a co-equal branch of government and the sacred constitutional principle that nobody is above the law, not even the highest elected official in the land."
On the other hand, Assemblyman Buchwald said, "The New York State Legislature has stepped up to promote transparency while the U.S. Treasury Department has instead denied lawful requests for tax records from the House of Representatives. Our state and federal governments have endured for over 200 years thanks to the system of checks and balances provided in our Constitution, and this bill is consistent with that tradition."
Treasury Secretary Steven Mnuchin denied the request of House Ways and Means Committee Chairman Richard Neal to obtain Trump's federal tax returns. He cited the reason that the request lacked a "legitimate legislative purpose" and "presents serious constitutional questions."
Earlier on Wednesday, Mnuchin told members of the House Financial Services Committee that he was given an advice that releasing Trump's tax returns is a violation of the law.
However, a Washington Post report indicated that a draft memo from the Internal Revenue Service (IRS) contradicts Mnuchin. The IRS legal counsel's office concluded that the agency must turn over Trump's tax returns to Congress unless the President invokes executive privilege.