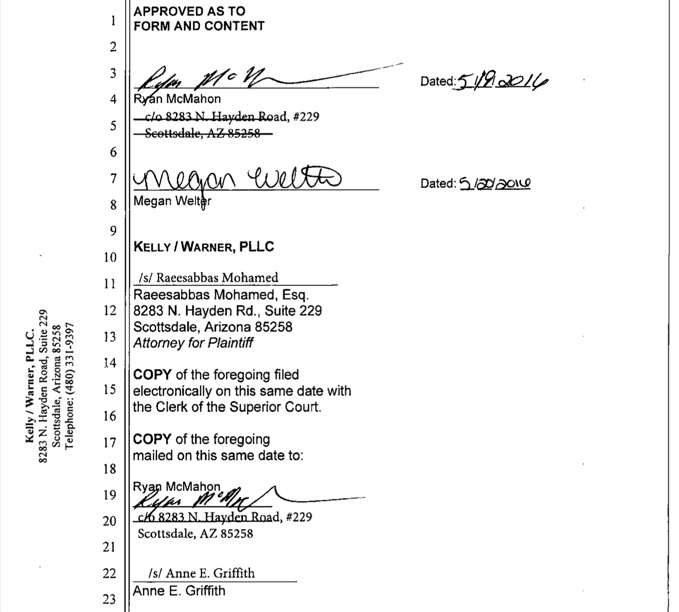 Former NFL Cheerleader Megan Welter was arrested for beating up her boyfriend Ryan McMahon in 2013.  Shortly after the arrest, due to Welter's high profile, she received a barrage of news attention around the arrest.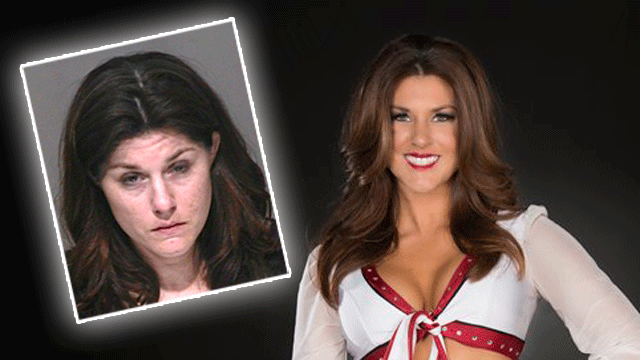 In an attempt to remove the negative publicity Welter received on BarStool Sports, ABC 15, and dozens of other media outlets, she had a lawsuit filed by the Kelly Warner Law Office that claimed the news media had reported defamatory information about her.   The goal of the lawsuit apparently was to remove any trace of these media outlets from Google search results for Megan Welter.
It had also appeared as-if Welter's victim, Ryan McMahon, had signed a stipulated order for permanent injunction claiming that the content on these articles was "false" and "defamatory," therefore Google should remove the articles from its search engine.
The USA Herald spoke with Ryan McMahon this evening and sure enough, Mr. McMahon confirmed that his signature was forged on the stipulated order and that he is reporting it to the Arizona Bar on Monday.
Currently both of the founding partners of the Kelly Warner Law Firm, Aaron Kelly and Daniel Warner, are under investigation by the Arizona Bar for other suspicious court filings that contained non-existant defendants, false notarizations, and forged signature.
For updates and access to all of the articles on the Kelly Warner Law Firm investigation. click here.
**6-20-17 Update: Court Transcript Tesimony from Ryan McMahon** 
3:08:05 – "Even though she did these things, I really believe that everybody deserves a fresh start. And if it ever happened to me, I would want someone to do this for myself. So I am okay with that. I guess that I hope she learns her lesson, and she takes care of it and doesn't do it again." – Ryan McMahon
Ryan McMahon clearly told the court the claims are true because "she did these things" so there is no defamation.   

**6-12-17 Update: Emails From Ryan McMahon** 
Email 1:
"To whom it may concern
My name is Ryan McMahon and I have recently been contacted concerning possible legal violations with reference to a fraudulent signature as submitted by Kelly/Warner Law firm (kellywarnerlaw.com) located in Scottsdale Arizona.  I have read the bellow articles and if what has been stated is correct I want to make it know that I have never, nor would I ever sign any statement contradicting what I have stated the night of the incident between myself and Megan Welter. With that said, that is my signature however I have never been contacted by the law firm Kelly/ Warner nor have I ever heard of them before being made aware of this by USA Herald  over the weekend.  Let me be clear one more time, that is my signature but I have never signed the legal document that has been listed in the article below.
I want to let you know that I do believe that Megan has made some mistakes and she has paid for them. I would be willing to help her take the articles off line however I will not if it means I would have to incriminate myself or lie about the events that night. I hope that the USA herald who I have CC take into account that she may have no knowledge of this and especially to remember that I (Ryan McMahon) have victim rights still concerning this. I want to remind them that my picture or any personal information not be published as it would violate those rights.
Concerning this case, I am more than willing to help bring these unethical lawyers to justice and will be willing to answer any questions and or help in anyway the Arizona State bar or Attorney General  as they see fit. In closing even though I am not a lawyer I hold the profession in very high regard. I truly find it sick that this law firm has disgraced their legal duty to improve the law, the legal profession and to exemplify the legal profession's ideals of public service. People need to be able to trust the law and its servants so please do not let these ideals be tarnished and do not let this stand. To the legal  team that will be prosecuting this case please let me know if there is anything I can help with.
Sincerely
Ryan McMahon
http://usaherald.com/nfl-cheerleader-megan-welter-lawsuit-censor-media-contained-forged-signature/
http://usaherald.com/arizona-attorney-daniel-warner-investigation-alleged-legal-fraud/"
Email 2
"Again I need to be clear, that is my signature however I have never nor would I ever self-incriminate or lie concerning the incident between myself and Megan Welter. Everything that was in my original police report is true and correct and I have never stated otherwise. I mean for Christ sakes I still have the video to prove it. With that said I was contacted by a lawyer last year that said his name was Raees Mohamed. He claimed to be working for himself and helping Megan get back on her feet. He had called me and sent me a couple e-mails saying in so many words "Megan just wants to move on from this. She knows that what  she did  was wrong and doesn't want this hanging over her head. She wants to put this  behind her and wants to start over fresh." He then went on to say that it would really go a long way if I agreed to have the documents removed as the victim. So here in lies the problem…..yes I did say that Megan should have every right to start over and did sign a document "ONLY" saying that I'm okay with the web sites coming down.  If the documents say anything other than that then it is forged. Raees sent me an e-mail saying that the judge would like to ask me if it was okay to have those come down to which I agreed. If you listen to the transcripts I even said at the end something to the effect that "Everyone should get a second chance and I hope she learns from this".