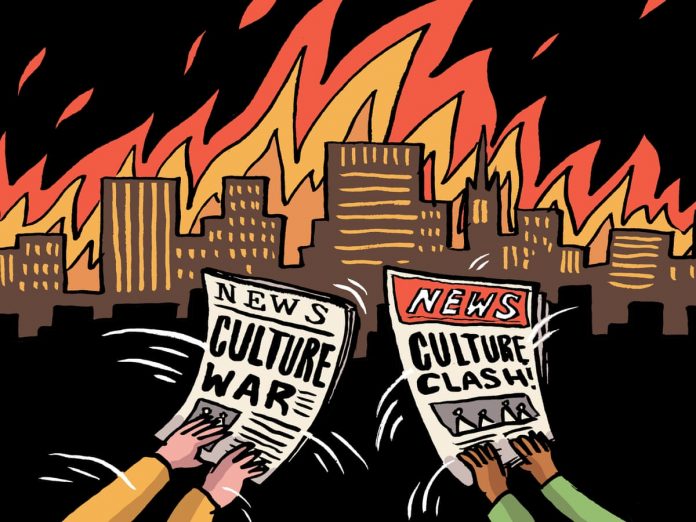 A Virginia mother claims that federal agents have infiltrated her local school board meeting to look into local Culture Wars.  And she fears that she is already a target of the DOJ, the FBI, and the NSA. 
The mother of six alleges that federal agents, including unmarked vehicles and a helicopter, were at the October 21st Fairfax County School Board meeting.
There was a time in America when this would be labeled a "conspiracy theory." 
But after listening to the Senate's cross-examination of the U.S Attorney General, Merrick Garland it seems true. Because Garland has brought the full force of the Feds to bear on anyone who disagrees with their local school board.
In reality, culture wars may not be as evenly divided as the Feds believe. There are plenty of anti-vaxxer Democrats. And more than a few Republicans that have no problem with their local school agendas. But parents almost universally agree that they should have a role in what's happening in their children's schools.
And lately, the disagreements are highlighted by politics. And school boards seem to be ground zero for the culture wars.
Culture Wars are now being fought by the FBI
Two leaders in the National School Boards Association told the White House that disruptive parents should be treated as domestic terrorists. And they co-wrote a letter with Biden's staff to send to President Biden. 
The Sept. 30 letter suggests that parents who object to mask mandates and the imposition of critical race theory (CRT) in classrooms are engaging in "a form of domestic terrorism." 
The NSBA Board disavowed the letter on October 22nd. And claim they are going to review "the proceedings leading up to the letter." 
But before the NSBA could walk back the letter on October 4th, the AG directed the FBI and NSA to get involved. He later admitted that he did not review the very thin cases that were used as evidence. And decided to open the investigation based solely on the rhetoric of the NSBA letter.
Attorney General Merrick Garland announced the FBI would take the lead on investigating "a disturbing spike in harassment, intimidation, and threats of violence against school administrators, board members, teachers, and staff."
"While spirited debate about policy matters is protected under our Constitution, that protection does not extend to threats of violence or efforts to intimidate individuals based on their views," Garland wrote in a memo to the feds.
Loudon County Dad upset by daughter's rape 
In June, Scott Smith, an angry parent attended his first-ever Loudoun County School Board meeting. Smith was upset about the rape of his daughter at a Loudoun County School. By this time he knew that the criminal complaint of her attacker was moving forward.
The school board was denying an assault had taken place. Superintendent Dr. Scott Ziegler said at the meeting there were no records of "assaults occurring in our restrooms." And indicated to the parents that Smith was lying about his daughter being raped.
Ziegler knew at the time that there had been a secret transfer of the accused student to another school. And the student committed a second rape at his new school. 
Smith was wrestled to the ground by police after arguing with another parent who also accused him of fabricating the assault.
Mr. Smith's case was used in the NSBA letter as an example of someone school boards need protection from. And he has been portrayed as a bigot in social media.
"That's wrong. I am not a bully. I am not a racist. I love everyone. I love this country. I want better stuff for it," he insists.
Some of the most contentious events are taking place in the Virginia suburbs. And the background includes the nearing contested election for Governor in November.
Fairfax Mom reads high school library books aloud 
It was Stacy Langton's viral anti-porn speech at a September Fairfax County School Board meeting that got her labeled a terrorist. In September, Langton was recorded criticizing high school library books that contained sexual content involving children. She began to read the content aloud.
Her mic was cut after she read some graphic passages. Then she said that "pornography is offensive to all people, it is offensive to common decency." 
"There are children in the audience here," one board member said.
"This board is in violation of the law … this board should be charged accordingly," Langton shouted to rousing applause from many supporters in the audience, who then chanted "go to jail." 
The district later said it would remove the books to assess their content. But in the meantime, Ms. Langton's rhetoric could somehow be construed as a threat and be labeled a Federal crime.
Then on Oct. 17, Langton participated in a demonstration dubbed "Parents Are Not 'Domestic Terrorists' Rally," in response to Garland's memo.
Langton has reportedly received "daily threats" since the protests, which she said she attended with about 45 other parents in her district. 
The woman who is being termed a "threat" believes she is being threatened. 
"I have threats against my children by name, I have been followed in my car with my children, they have my vehicle, they know where I live, and I don't know who's putting somebody up to this, but it's obviously meant to intimidate me."
Conflict of Interests? 
Republican senators and congressmen, and parent groups claim Garland has a conflict of interest. A left-wing education company called Panorama Education was co-founded by his son-in-law. 
Panorama's CRT curriculum is profitable, as well as, controversial. The company's revenues are not public, but it claims it "supports 13 million students in 21,000 schools" and has garnered tens of millions of dollars from investors. But it gets most of its money from taxpayers. 
The Board of the NSBA realizes that the letter is a mistake. School districts are getting out of the NSBA and it will probably result in a downsizing of the very large special interest group.
But Garland seems to be confused. And he may not understand how deep into politics he has jumped. He is adamant that his son-in-law's business is not a conflict of interest. So he's either lying or he's not very smart.