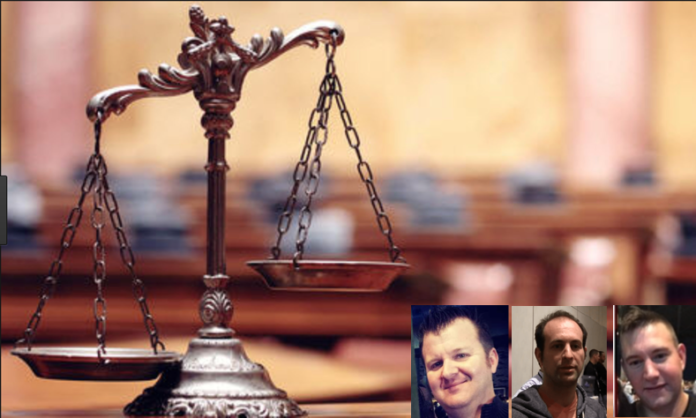 Earlier this year we wrote an in-depth article about dozens of suspicious court filings that aimed to remove RipOffReport, PissedConsumer, and other consumer advocacy sites from Google.  TechDirt along with The Washington Post originally reported that Attorney Aaron Kelly, Richart Ruddie, and Attorney Daniel Warner were the primary suspects behind these filings, where the defendants were non-existant, signatures were forged, and fake notaries were used.
***11/1/17 Update – Arizona Bar Investigation Into Attorney Aaron Kelly & Attorney Daniel Warner Continues***
It seems that Google has closely reviewed many of the RipOffReport and PissedConsumer removal lawsuits that Kelly, Ruddie, and Warner filed…resulting in Google re-indexing these once-removed RipOffReport/PissedConsumer web results.
The Nexus Between Kelly, Ruddie, and Warner
Records show that Richart Ruddie has worked closely with both Attorney Kelly and Attorney Warner in the past.   Going all the way back to 2012, Attorney Kelly represented Richart Ruddie in a case where he was accused of deceptive trade practices that included these allegations:
Claims alleged against Richart Ruddie in the lawsuit included:
False Designation of Origin

Violation of Rights of Publicity

Deceptive Trade Practices

Civil Conspiracy


Unjust Enrichment

Conversion
Sources have claimed that Richart Ruddie became a referral partner to the Kelly Warner Law Firm, sending over clients to have their negative press on sites like RipOffReport de-indexed.
Also, on at least 1 occasion, Richart Ruddie was hired by Attorney Daniel Warner as a professional witness in a Federal Civil case.   Video footage would show that the Plaintiff in that case was friends with Ruddie and snowboarded with him on numerous occasions.  Additionally it would seem that there would be conflict in hiring a professional witness that is actually a client…potentially waving attorney-client privilege rights.
Last, but not least, records show that Richart Ruddie filed very suspicious litigation to remove a RipOffReport from Google about Attorney Daniel Warner.   Here are the details of that filing from this previous article:
"Lawsuit 4 – Ruddie v. Kirschner
This is, if fraudulent, the most egregious lawsuit of the bunch.  Here, Attorney Daniel Warner appears to have orchestrated a fraudulent legal scheme to have a RipOffReport published about him removed from Google. This RipOffReport written about Attorney Warner is likely written by his aggrieved former client, Charles Rodrick. Though the website has heavily redacted the report, you can find the previous version here.
The Arizona Republic covered Rodrick's grievances in depth.
"Daniel Warner, who has been called as a witness in the federal case and testified Wednesday, said Rodrick filed a complaint with the State Bar of Arizona alleging misconduct after Warner withdrew from the case.
 Rodrick accused Warner of violating several professional rules, including fraudulent billing, conflict of interest and revealing privileged attorney-client information through an article on the firm's blog last year with the headline, "Two men, one extortion racket website?"
Rodrick even went so far as to file a bar complaint.
Considering the likelihood that Charles Roderick wrote the RipOffReport, Attorney Warner's subsequent actions are puzzling, at best.
Attorney Daniel Warner's friend and colleague, Richart Ruddie, whom Warner has a relationship with and has worked with on multiple occasions, appears to have filed a fake lawsuit to deindex the RipOffReport.   NOTE: Kelly Warner represented Richart Ruddie in the Walters v. Coopers Picks LLC case where  Richart Ruddie was sued for Conspiracy and Deceptive Trade Practices.
In what appears as an attempt to hide Richart Ruddie's identity, Ruddie filed a lawsuit listing his name as "R. Derek Ruddie" against another seemingly fake defendant named "Jake Kirschner" that chose to represent himself pro se.
"R. Derek Ruddie" AKA "Richart Derek Ruddie" claims that "Defendant Kirschner (Defendant) posted false and defamatory statements about Plaintiff Ruddie (Plaintiff)  here.
Interestingly, R. Derek Ruddie (Richart Ruddie) is not mentioned one single time in the RipOffReport listing about Daniel Warner.  Yet, Ruddie claims in his lawsuit that he was "harmed" by the RipOffReport about Daniel Warner.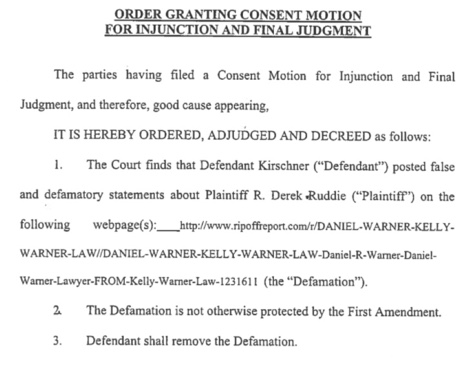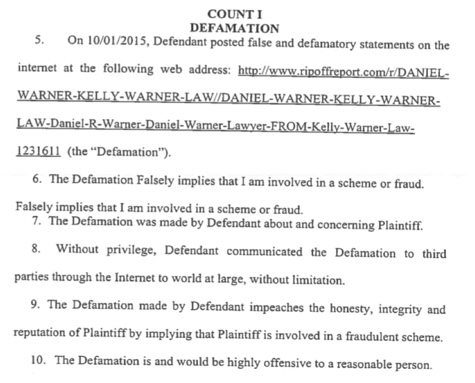 Considering the history that Daniel Warner and Richart Ruddie have together, and Warner's history of similar lawsuits that appear to have fraudulent elements, it would seem that Attorney Warner, the true beneficiary of this filing, may have played a role in this suit as well.
This lawsuit filed by Richart Ruddie with the ultimate beneficiary being Daniel Warner appears to have the following characteristics:
Fake defendant representing herself pro se
False assertions
Purpose was to remove negative material from Google.
This is not Daniel Warner's first time attempting to de-index the listing.
In fact, on June 23, 2015, less than 5 months before Richart Ruddie filed the lawsuit, it appears that Attorney Warner attempted to take down the RipOffReport listing by claiming that the picture listed on the report violated his copyright because it was taken from LinkedIn."
Arizona Bar & Federal Investigation
Attorney Aaron Kelly & Attorney Daniel Warner have been under investigation by the Arizona Bar for 8+ months now.  UCLA Law Professor Eugene Volokh originally reported these lawyers to the ABA back in March shortly before he ran this article https://www.washingtonpost.com/news/volokh-conspiracy/wp/2017/03/30/libel-takedown-injunctions-and-fake-notarizations/.
The Arizona Bar brought the investigation forward as the complainant.   We can only speculate that the Bar is taking this investigation seriously, however until a probably cause finding it is unlikely that we'll receive any updates other than the fact that there is still an investigation ongoing.
We have also received confirmation from a source that the FBI is involved in the investigation.   No further information is available at this time.
PissedConsumer & Texas AG Taking A Strong Stance Against Fake Deindexing Filings
Consumer advocacy sites like PissedConsumer, which have been the target of many of the deindexing filings by Kelly, Ruddie, and Warner, are fighting back.  Also the Texas Attorney General recently filed suit against another group that is accused of filing fake lawsuits to remove negative publicity from Google.
We covered those stories here.
Future Updates
Check back with the USA Herald for future updates on this article.   If you have any tips of would like to provide us feedback, please call or email us: https://usaherald.com/contact-us/.