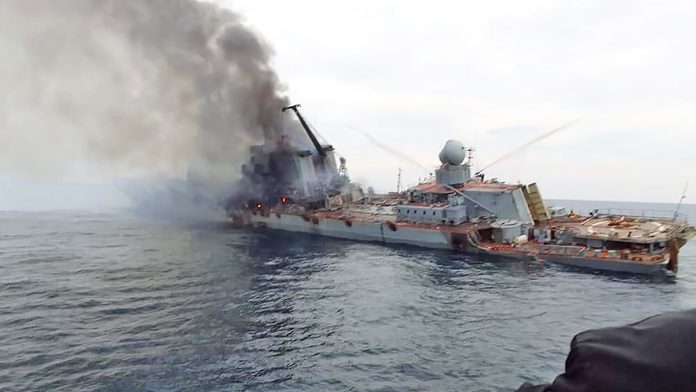 Last Thursday video surfaced of Ukraine launching a missile strike on the Russian Moskva. Not just any warship, but a top-of-the-line guided-missile cruiser, which was the flagship of Russia's Black Sea Fleet.
It was also the same ship that ordered a handful of Ukrainian troops on tiny Snake Island to surrender. And the response was" Go to hell."  The Snake Island events happened at the beginning of the Russian invasion of Ukraine. And the defiance of Ukraine continues.
Ukraine's military is operating at a severe disadvantage. By any measure, Russia has a huge advantage in both numbers, types of weapons, and tactical equipment.
The Ukrainian military touted its "important victory."  And said they hit the ship with Neptune anti-ship missiles off Ukraine's battered southern coast on April 14th.
IMHO, picture might have been taken from #ВМФ Project 22870 #ЧФ BSF 145th Rescue Ship Squad 1st group tug SB739 https://t.co/1GYQDsGqeX

— Yörük Işık (@YorukIsik) April 17, 2022
Russian Moskva sinking 
The Russian Moskva is one of the Kremlin's essential warships. And they admitted it did sink in the Black Sea. But according to the Russian Ministry of Defense it was due to an onboard explosion and fire. 
The Ministry says the ship was towed back to port. And the cause of the onboard fire is under investigation.
Russia still continues to deny there was a missile strike. And also claims the estimated 500 crew members were safely evacuated without injuries.
Many families of Russian sailors who were onboard the Moskva are claiming they cannot find their loved ones. And it is being reported that hospitals in Russia are being filled by the wounded from the Russia-Ukraine war.
Photos and videos show the Moskva burning before it sank into the Black Sea. And the US Pentagon says there are videos showing Russian sailors leaving the damaged ship in lifeboats.
Ukraine defense forces have put up a very tough resistance to Russian aggression. And the first 50 days of Russia's invasion and aerial assault have seen some unexpected victories. 
There have also been some notable Russian military failures. But Russia is also waging war on Ukraine citizens. And that is where they have had most of their success.
Devastation continues in the port city of Mariupol. And Ukraine is preparing for the Russian attacks in the far eastern Donbas regions. But in a land of atrocities and mass graves no one truly wins.