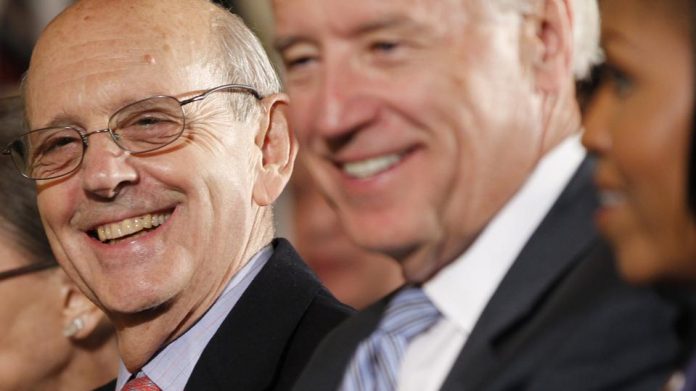 According to inside the Beltway sources Justice Stephen Breyer is planning to retire from the Supreme Court at the end of the current term. After more than 24-years on the bench, the 83-year-old liberal justice is ready to step down.
Breyer's retirement will allow the president to appoint another liberal justice with a lifetime appointment.
Jen Psaki, White House press secretary tweeted out, saying, "It has always been the decision of any Supreme Court Justice if and when they decide to retire, and how they want to announce it, and that remains the case today." The White House would have no additional details or information to share, she added.
The President made some brief remarks to the press on Wednesday.  "Let him make whatever statement he's going to make, and I'll be happy to talk about it later," Biden emphasized.
Breyer oldest Supreme court justice 
Breyer is currently the court's oldest member. For months now liberal activists have urged him to retire. Democrats now have the majority in the Senate and the White House. The fear is that Republicans could take over the Senate in November's midterm elections.
The Democrats contend that the late Ruth Bader Ginsburg remained a Supreme court justice for too long. And with her history of health problems, she should have retired under a Democrat President Obama's administration.
Breyer is one of the three remaining liberal justices, and his decision to retire after more than 27 years on the court allows President Joe Biden to appoint a successor who could serve for decades. And it would help maintain the current 6-3 split between conservative and liberal justices.
Ginsburg's death from cancer at 87, enabled then-President Donald Trump to appoint her successor, Amy Coney Barrett. Democrats fear the court has been moving more to the right. 
Democrats have been calling for Breyer to retire
While campaigning for the presidency Biden promised to nominate a Black woman to the court.
Recently there have been calls for Breyer to retire. Demand Justice, an ultra-progressive activist group, went so far as to hire a large truck. Then they mounted signs saying "Breyer Retire. It's time for a Black woman Supreme Court justice."  And drove the truck around DC.
In a Washington Post op-ed last May, Erwin Chemerinsky, dean of the University of California Berkeley School of Law, urged Breyer to retire. He said there are times "when the stewards of our system must put the good of an institution they love, and of the country they love, above their own interests. They have to recognize that no one, not even a brilliant justice, is irreplaceable, and that the risks presented by remaining are more than hypothetical."
Likely contenders include U.S. Circuit Judge Ketanji Brown Jackson of the Court of Appeals for the District of Columbia, a former law clerk of Breyer's; and Leondra Kruger, a justice on California's Supreme Court.
Senate Majority Leader Chuck Schumer, D-N.Y., said Biden's nominee will "receive a prompt hearing in the Senate Judiciary Committee, and will be considered and confirmed by the full United States Senate with all deliberate speed."
"America owes Justice Breyer an enormous debt of gratitude," Schumer also said.
Supreme court justice with liberal views
Republican Sen. Lindsey Graham of South Carolina, who voted for Justices Sonia Sotomayor and Elena Kagan, said if Democrats "hang together," they have the power to replace Breyer without a single Republican vote.
"Elections have consequences, and that is most evident when it comes to fulfilling vacancies on the Supreme Court," Graham claims.
Breyer was appointed by President Bill Clinton in 1994. He is considered one of the court's moderate-to-liberal members. Breyer has often said it was misleading to label justices as liberal or conservative.
Breyer believes that interpreting the Constitution should be based on practical considerations. And they change with the times.  More conservative justices say the court must be guided by the original intent of the founders.
"The reason that I do that is because law in general, I think, grows out of communities of people who have some problems they want to solve," Breyer said in an interview.
Breyer also wrote the court's opinion striking down a state law that banned some late-term abortions in 2000. And he dissented in 2007, when the Supreme Court upheld a similar federal law passed by Congress. 
He supported civil rights measures, including affirmative action. And in a dissent in 2015, he said the death penalty in America had become so arbitrary that it was probably unconstitutional.
Last term, he authored major opinions to uphold the Affordable Care Act. Also, to affirm free speech rights of students off-campus. And his opinion was adopted to resolve a multi-billion-dollar copyright dispute between two tech titans, Google and Oracle.
Biden will act quickly to nominate a successor Supreme Court Justice for the court's next term which begins October 3rd.