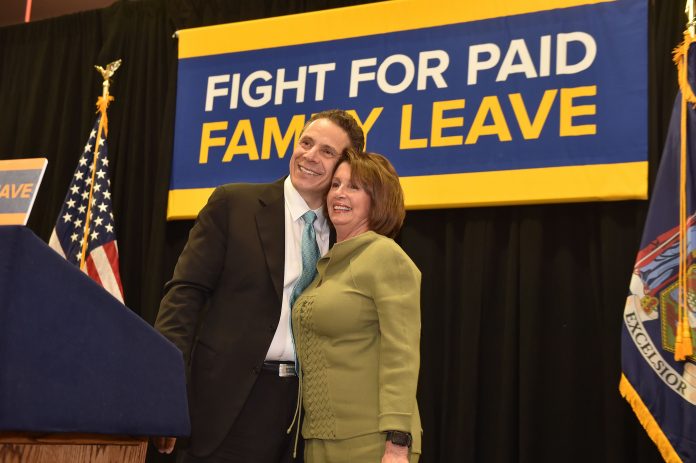 New York Governor Andrew Cuomo is encouraging Democrats in the U.S. House of Representatives to support Rep. Nancy Pelosi in her bid to reclaim the Speaker's gavel.
In a statement on Friday, Cuomo described Pelosi as a "battle tested leader." He noted that the California Democrat has a "demonstrable record of governmental accomplishment during the most difficult times" and she once again proved her political leadership skills with victories during the midterm elections.
The "best choice" to serve as House Speaker
"Now more than ever Democrats need tested, proven leadership as the House will now serve a vital role in defending this nation against the radical right wing extremism and chaos threatening our nation. Nancy Pelosi's political leadership combined with her governmental knowledge and experience makes her the best choice to serve as that leader," he wrote.
In addition, Cuomo stressed that t no one is publicly announcing their intention to challenge Pelosi because "there is no tested comparable alternative."  He believed that the California Democrat has the necessary skills and knowledge to win and election and to make government work. She led the House Democrats since 2003.
Furthermore more, he noted that Pelosi is a great friend to the state of New York and she truly knows the needs of New Yorkers. According to him, "She has always fought for our priorities and I believe she always will.
"Nancy Pelosi has my support as Speaker, and I urge strongly our delegation to support her for the good of our state and nation," said Cuomo.
The governor's statement comes after some House Democrats expressed opposition to Pelosi's bid to become the next House Speaker. However, no one among them declared to challenge her.
Potential challenger backs out
Earlier this week, Rep. Brian Higgins of New York and Rep. Marcia Fudge of Ohio decided to support Pelosi. Both lawmakers previously opposed the California Democrat's bid to reclaim the House Speakership.
In fact, Fudge was considering the idea of running for House Speaker but she abandoned it after her discussions with the California Democrat.
"I am now confident that we will move forward together and that the 116th Congress will be a Congress of which we can all be proud.  I now join my colleagues in support of the leadership team of Pelosi, [Steny] Hoyer and [James] Clyburn," said Fudge.
New York Rep.-elect Alexandria Ocasio-Cortez also expressed support for Pelosi. She tweeted, "All the challenges to Leader Pelosi are coming from her right, in an apparent effort to make the party even more conservative and bent toward corporate interests."
"Hard pass. So long as Leader Pelosi remains the most progressive candidate for Speaker, she can count on my support."