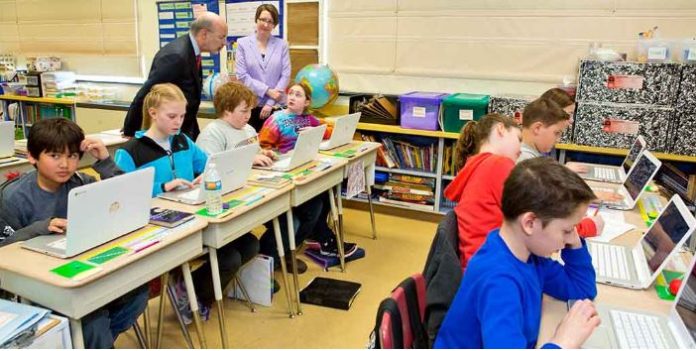 Governor Tom Wolf and the Pennsylvania Department of Education proposed Computer Science for All standards for schools in the State.
During a State Board Education meeting, the Education Department highlighted the significance of making computer science available for all students.
In a statement, Gov. Wolf underlined the reality that the economy is constantly changing. He said over the next decade, seven in ten new jobs in Pennsylvania will require workers to use computers and new technologies.
He also emphasized, "Businesses are growing in Pennsylvania and we know they need skilled workers. We must begin to prepare students now by establishing standards for computer science education in Pennsylvania schools."
The governor wants students in the State to have the skills they need for the emerging high-demand jobs. According to him, students armed with computer science skills will support middle class families and attract new businesses.
Because of these reasons, Gov. Wolf asked the Education Department to work with the State Board of Education to adopt Computer Science for All standards.
On his part, the governor promised to "work with the legislature to codify computer science standards into law."
Future jobs will require STEM and Computer Science skills
At present, Pennsylvania is already a leader in science, technology, engineering and math (STEM) education. The PA STEM coalition is working with schools and students to expand STEM and Computer Science offerings.
The State has more than 1,200 educators that received training from Code.org K-12 resources. Last year, 18,332 high school students took Computer Science.
Gov. Wolf signed a legislation that allows Computer Science classes to count for graduation. Pennsylvania is one of 24 Sates with this policy. The governor wants Pennsylvania to become a national leader in STEM education
Currently, Pennsylvania ranks fourth in the United States when it comes to the number of STEM graduates. The State is included in the top ten for STEM jobs. The governor believes that his administration needs to do more to provide students access to a quality computer science course.
By 2018, approximately 300,000 jobs in Pennsylvania will require STEM skills or content knowledge. Over the next ten years, 71% of the new jobs need computer science skills, according to the State government.