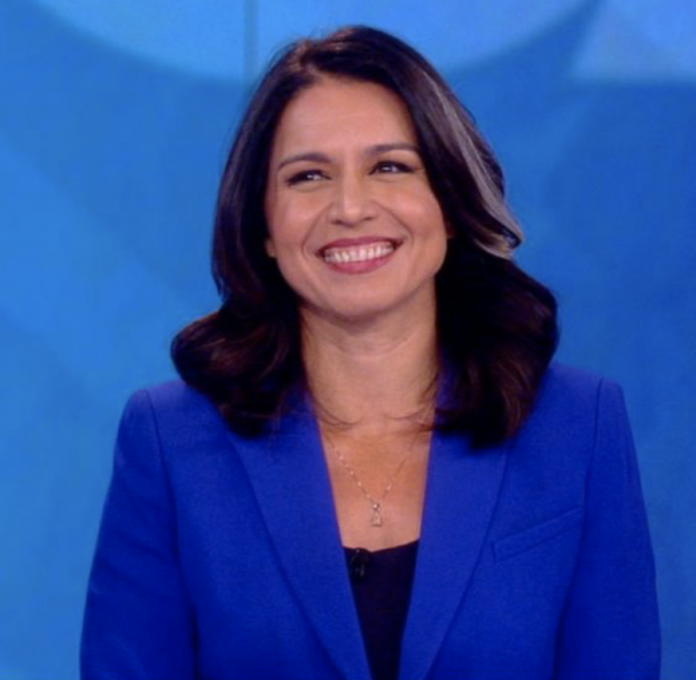 Last week's fifth Democrat debate marked an interesting turning point for many 2020 presidential candidates. As various contenders worked to solidify themselves as worthy of the Democrat nomination, some rose and others fell.
2020 Democrat Tulsi Gabbard is one of the left-wing contenders to see a rise in the polls. Gabbard's rise comes after a back-and-forth with Hillary Clinton last month; Clinton set off a chain of events after branding Gabbard as a "Russian asset." Since then, Gabbard's lawyers have demanded Clinton to issue a public retraction of her unfounded statements.
In the midst of all this and more, Gabbard is now polling at 6%, according to findings from a Suffolk University/Boston Globe survey. 
What You Need to Know About Gabbard's Debate Performance and Rise in the Polls
During Wednesday night's fifth Democrat debate, Gabbard sparred with Pete Buttigieg and Kamala Harris.
Gabbard vs. Buttigieg
The combat army veteran questioned Buttigieg on his judgment regarding use of the military and foreign policy.
When the South Bend mayor pushed back against Gabbard's willingness to meet with certain dictators, she professed that meetings are preferable to wars. The combat army veteran furthermore declared that Buttigieg lacks the courage to meet with the necessary figures to preserve the safety of men and women in the military.
Gabbard vs. Harris
Shortly before Gabbard's back-and-forth with Buttigieg, she faced an attack from Kamala Harris. Harris censured Gabbard for her previous criticisms of the Obama administration's management of foreign policy; she also took issue with the combat army war veteran's Fox News appearances.
Gabbard responded to Harris' statements by calling them "ridiculous" and vowing that she won't place party interests ahead of what's best for the nation.
The New Rise in the Polls
Per the aforementioned findings from Suffolk/Globe, Gabbard's standing amongst likely New Hampshire Democrat primary voters is at 6%.
#NEW Post-Deabte New Hampshire @BostonGlobe/@Suffolk_U Poll

Sanders 16%
Warren 14%
Buttigieg 13%
Biden 12%
Gabbard 6%
Yang 4%
Harris 3%
Booker/Steyer 2%
Klobuchar/Patrick 1%https://t.co/5OhT7ahlsn

— Political Polls (@PpollingNumbers) November 25, 2019
The combat army war veteran is presently trailing behind Elizabeth Warren, Joe Biden, Pete Buttigieg, and Bernie Sanders; however, Gabbard is also beating Kamala Harris, Cory Booker, Andrew Yang, Amy Klobuchar, and others.
News of Gabbard's rise in the polls comes as she works to qualify for the sixth Democrat debate in December. According to the 2020 candidate's social media pages, she's very close to reaching the necessary amount of unique, individual donors.