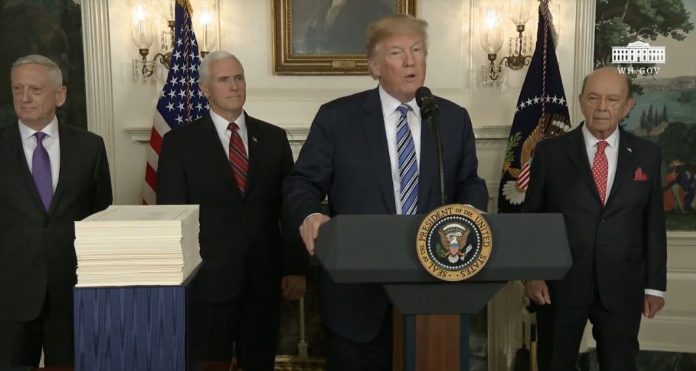 President Donald Trump said he was "unhappy" with the $1.3 billion spending bill but signed it into law because it was necessary for national security. He emphasized that his "highest duty is to keep America safe."
During a press conference, Pres. Trump said, "There are a lot of things I'm unhappy about in this bill. There are a lot of things we shouldn't have had in this bill, but we were in a sense forced if we want to build our military."
Hours before signing the bill on Friday, Pres. Trump posted a tweet threatening to veto the spending bill. He cited the reason that Congress abandoned the young undocumented immigrants and the funding for the border wall is not sufficient.
I am considering a VETO of the Omnibus Spending Bill based on the fact that the 800,000 plus DACA recipients have been totally abandoned by the Democrats (not even mentioned in Bill) and the BORDER WALL, which is desperately needed for our National Defense, is not fully funded.

— Donald J. Trump (@realDonaldTrump) March 23, 2018
Yesterday, House Speaker Paul Ryan said the spending bill more allotment for border security than the request of the Trump administration. He also stated that Pres. Trump was happy with it. The President said, he is not happy with it.
In his remarks, the Pres. Trump slammed Congress for quickly putting together and passing the 2,232-page legislation. He called it a "ridiculous situation" since lawmakers didn't have enough time to read the entire bill.
While looking over at the pile of paperwork, the President said, "You tell me who can read that quickly." Take note that the House passed the spending bill on Thursday, less than 17 hours after its release to the public. The Senate sent it to the President's desk early morning Friday.
In addition, the President made it clear that will be the last time he will sign a similar legislation. According to him, "I said to Congress, I will never sign another bill like this again. I'm not going to do it again. Nobody read it. It's only hours old. Some people don't even know what's in it."
Furthermore, Pres. Trump said the Senate needs to "get rid of the filibuster rule" and "go to 51 votes" in order to sustain success. "We have to get a lot of great legislation approved. Without the filibuster rule, it will happen just like magic," he said.
The President also called on Congress to give him a "line item veto for all government spending bills."