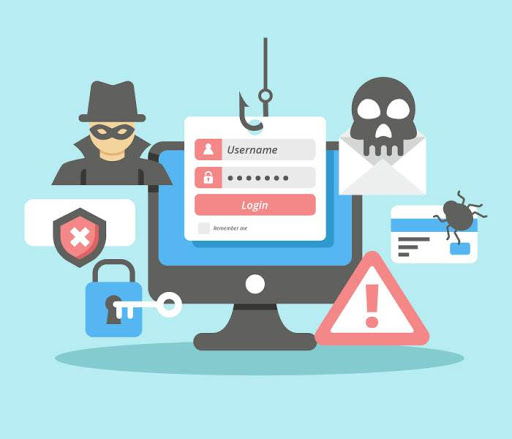 Privacy was once taken for granted on the web. Someone could work or play games on their home computer without fear. Now, we are concern as major data breaches, phishing scams, and ransomware have hit the headlines hard over the past few years. The COVID-19 pandemic changed our way of life and forced us all online. Therefore, cybersecurity is more essential than ever.
Even at home, there is the potential that someone can get our personal information, or even worse a trusted site can breach your security. Security issues have been discovered everywhere from voice-activated remotes to apps we download every day. Most people are most at-risk from email phishing scams.
What is phishing or email spoofing?
An email account is a hub for links to services and sites. It can also be used by cybercriminals in phishing scams and hacking attacks. 
Phishing is the fraudulent attempt to obtain personal identifiable information (PII), which includes names, usernames, passwords, home addresses, date of birth, and credit card details. They try to scam you by disguising themselves as a trusted entity with a fake email. 
If the scammer gets enough information, they may attempt to access bank accounts or other member accounts. The FBI's Internet Crime Complaint Center reported that in 2019, individuals lost $57 million to phishing schemes.
Phishing emails may look like they come from a company you know or trust. They may even have your bank or credit card company's logo. 
Phishing emails are designed to trick you into clicking a link or opening up an attachment. If you click the link or open the attachment you will be taken to a fake site. Again it may look like the legitimate site but it is most likely a clone of the real thing. Look at the link. Sometimes the link is a give-away that the email is not from a trusted source.
They may warn of a suspicious activity or log-in attempt. They may warn that there is a problem with your account. They may request you to update some personal information or pay a scam invoice. They may even offer you free stuff.
PII data often provides attackers enough information to conduct identity theft, break into your bank account, use your information to take out loans, or even compromise other online accounts. PII data is also a goldmine in the hands of advertisers.
Protecting yourself from phishing scams
If you think your bank is contacting you in a phishing effort go directly to the real bank. Don't click the email. Never give personal information that is solicited via email. Be very careful about opening any attachments.
Using security software is recommended for any device where you check your email or go online. Set the software to automatic updates to neutralize any new threats.
 Make sure all your accounts use multi-factor authentication and/or change passwords often. The extra security of having two-or-more credentials to enable login is a bonus for security. 
It isn't that difficult for a hacker to obtain a generic password. It's a lot tougher for them to hack multifactor authentications. And it's almost impossible for them to access fingerprint, face, or eye scan authentication.
The spam filters in your email can keep some of those phishing emails out of your inbox. But scammers are more sophisticated these days, so add extra layers to your cybersecurity to protect yourself from phishing scams.
—————————————-
Have a story you want USA Herald to cover? Submit a tip here and if we think it's newsworthy, we'll follow up on it.
Want to contribute a story? We also accept article submissions — check out our writer's guidelines here.