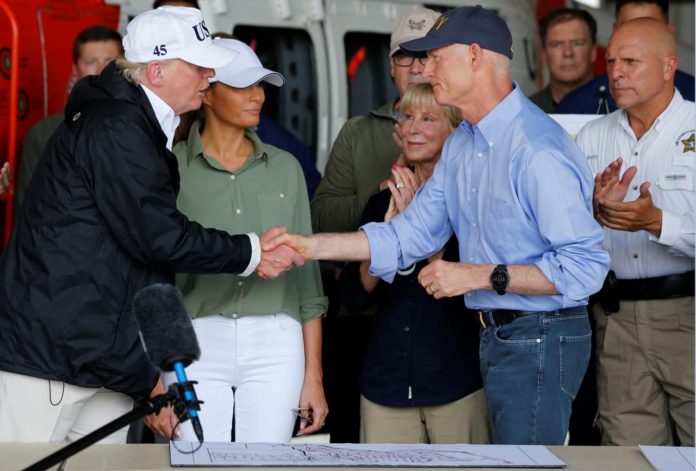 President Donald Trump traveled to the Sunshine State in the aftermath of Hurricane Irma. His mission was to witness the storm's devastation first hand, oversee response efforts, and speak with first-hand witnesses. During his visit, he also met with Florida Gov. Rick Scott.
Trump, along with first lady Melania Trump and Vice President Mike Pence visited Fort Myers and Naples, two of the areas most damaged by Irma.
"I have to say that your governor…The job he's done is incredible," the President said, "I guess I've been very lucky because, you know, you have a great governor in Texas; you have a great governor in Florida. The job that Rick has done is being talked about all over."
The President further praised the first responders and the Coast Guard for their valor. He then interjected his hope that Scott will run for the Senate in 2018.
"What do I know," Trump said, "but I hope this man right here, Rick Scott, runs for the Senate… I don't know what he's going to do."
Scott, who was next to him when Trump made the statement, did not directly address it. He instead thanked volunteers and all those came to help.
However, this is not the first time Trump has publicly nudged Scott into a senatorial run. Back in June, the President encouraged Scott to run as a part of his speech on Cuba regulations in Miami.
Scott has not yet decided whether he will run, and has said that he feels no pressure to make an early decision.
If he did decide to throw his hat into the ring, Scott would face up against U.S. Senator Bill Nelson (D-FL).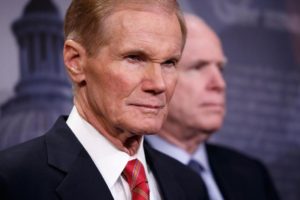 Nelson was first elected to the Senate in the year 2000, succeeding a retired Connie Mack. His career in politics began in the 1979 Florida Legislature.  Afterwards, he was elected to the U.S. House of Representatives, where he became the first member of Congress to have flown in space. He is generally considered to be a moderate Democrat.
Scott's handling of the storm has won him a great deal of praise outside of just the President. Political experts say that this will have a strong positive effect for him in the polls.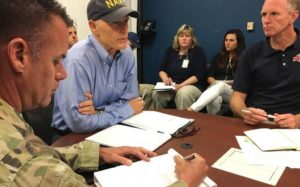 Scott and the President have been friends for many years. Soon after Trump won Florida in the Republican primaries, Gov. Scott came out in support of his candidacy. Scott appreciated Trump's lack of political correctness, and claimed that he was an excellent candidate for job creation.
Both businessmen-turned-politicians, Scott's message of "Jobs, Jobs, Jobs!" quickly rubbed off on Trump's campaign. Now, Scott heads up the New Republican PAC – a pro-Trump group dedicated to supporting outsider-conservatives.
Their close relationship will likely play out in the midterms, with many more Presidential visits to come. As in 2016, Florida will be a major battleground for congressional races next year.